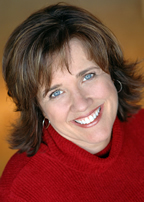 On Tuesday, April 7th, Renée Bondi will be featured on the CatholicTV talk show "This is the Day". Renée will tell her inspirational story of how she was paralyzed at the age of 29 the night after her engagement and the amazing story of faith and commitment which followed.

Before suffering a bizarre accident in 1988, Renée Bondi was a successful high school music teacher and had a beautiful singing voice. After her accident, Renée lost use of her legs and hands and could not walk. She also lost her singing voice and was no longer able to teach music.
Over the last two decades, Renée, has been married 19 years to the man she was engaged to wed, has given thousands of presentations and concerts across the country and globe. Through Bondi Ministries, she has given talks at churches, schools, conferences, corporate events and retreats about the lessons she learned in the face of adversity. Renée has received many awards including 2000 Woman of the Year by the California State Senate, and was given Special Congressional Recognition for Outstanding Service to the Community by the US House of Representatives.

The significance of Holy Week will also be discussed on "This is the Day" by Father Robert Reed and Jay Fadden. Fr. Robert Reed is the Director of CatholicTV and Jay Fadden is the General Manager.

These guests can be seen on Tuesday, April the 7th live at 10:30AM (EST)