On January 22nd, Carol Bannon, author of "Handshake From Heaven", a children's book about the Eucharist will appear on the CatholicTV talk show "This is the Day".
On January 26th, the guest for This is the Day will be Janet Eisner, the President of Emmanuel College, a private Catholic college in Boston, Masschusetts.
These live episodes of This is the Day will air at 10:30AM (Eastern) at CatholicTV.com and on CatholicTV. These episodes will rebroadcast on the same day at 8PM.
In Carol Bannon's book Handshake From Heaven, Bannon begins with the questions "can we touch God? Can we reach out and hold him close?" Sr. Dominica Brennan, OP, from the Archdiocese of St. Paul, Minnesota called the book a "lovely faith-filled book parents can use to share their faith with their children."
Sister Janet Eisner, SND is President of Emmanuel College in Boston, having served in this position since 1979. She is a Sister of Notre Dame de Namur.
Sister Janet Eisner is a graduate of Emmanuel College and holds a Master of Arts degree from Boston College and her Ph.D. in English from the University of Michigan.
During her career, Sister Janet has influenced educational and public policy in Massachusetts and nationally. She has served on several national commissions for the American Council on Education, the Association of Governing Boards and the National Association of Independent Colleges and Universities, and on the Massachusetts Board of Regents of Higher Education. She has also chaired the Association of Independent Colleges and Universities of Massachusetts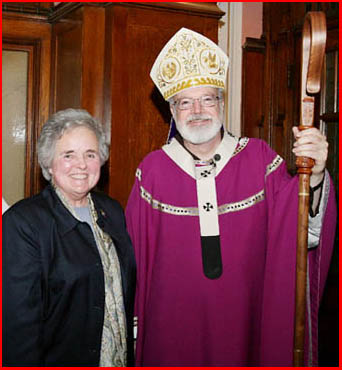 Sister Janet With Cardinal Sean O'Malley


These episodes will be available on the website's archives starting the same night of the broadcast day. All videos at the website are viewable in full-screen. Paste this URL into your browser in order to access the "This is the Day" video archives. http://www.CatholicTV.com/shows/default.aspx?seriesID=72