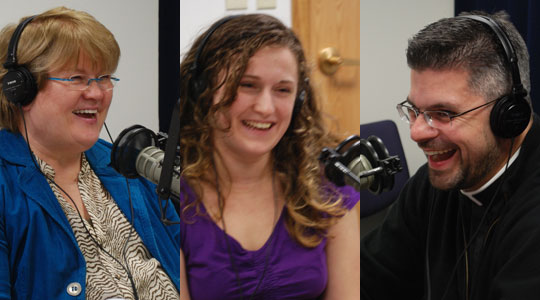 Bonnie and I had the pleasure of appearing on
The Good Catholic Life
on Boston's 1060AM,
The Station of the Cross
last night.
Hosted by RCAB's Secretary for Catholic Media
Scot Landry
, The Good Catholic Life is a show for Bostonians by Bostonians about living a good, joy-filled, holy Catholic life here in Boston. Scot is joined by a different co-host every day, and we were privileged to be on the show with
Father Matt Williams
, the Director of the Office for New Evangelization of Youth and Young Adults.
Bonnie and I got the chance to talk about CatholicTV's great programming, in particular
ChristmasTV
, which starts at 8:30 every night, until the 24th, 25th, and 26th, when it lasts all day in our 3-day ChristmasTV Marathon.
Turn your TV on as you enjoy Christmas with your family, and listen to the great music and family friendly programming on ChristmasTV. Be sure to join us for the Midnight Mass at the Basilica of St. Peter (at Midnight!), or for the 10AM (ET) Mass at Notre Dame's Basilica of the Sacred Heart. ChristmasTV continues for all 12 days of Christmas.
We also spoke about our exciting new venture,
The Gist
, a new kind of Catholic program for women. CatholicTV Producer Kate Andrews has been working hard on this project, and we hosted Rachel Balducci, Danielle Bean and Carolee McGrath two weeks ago for our first round of shooting. The show premieres in January, so stay updated by checking it out on
Facebook
and
Twitter
.
Finally, Bonnie and I talked with Scot and Fr. Matt about CatholicTV's efforts to provide content across all media. An integral aspect of the New Evangelization is meeting people where they are, and CatholicTV truly strives to do that with our website and mobile livestream, mobile apps,
Facebook
,
Twitter
and
Youtube
pages. Be sure to like/follow/subscribe to us for the full CatholicTV experience. We are always exploring new platforms on which to offer our content, so stay tuned for updates in the (near) future!
If you missed Bonnie and me on The Good Catholic Life, you can listen to the show right
here
.
God bless!
Helen