On December 1st, Fr. John Bartunek, LC will be interviewed on the CatholicTV talk show "This is the Day". Fr. John was a professional actor and an evangelical Christian until he converted to the Catholic faith in 1991. He provided spiritual support on the set of Mel Gibson's The Passion of the Christ while researching the 2005 Catholic best seller, Inside the Passion, the only authorized, behind-the-scene explanation of the film.
Fr. Bartunek was ordained a Roman Catholic priest in 2003 and is currently engaged in doctoral research. He has been featured on Larry King Live, CNN, Fox, BBC, and others. He is a popular speaker who often discusses apologetics, media and culture, faith in entertainment, and other subjects.
CatholicTV is a nationally-broadcasted television network headquartered near Boston. CatholicTV streams its broadcast simultaneously, 24 hours a day at www.CatholicTV.com
Fr. Bartunek will discuss his most recent book, published by Circle Press in 2007, called "The Better Part: A Christ-Centered Resource for Personal Prayer" while on "This is the Day". In his book, which sold out of its first printing, Fr. Bartunek offers a practical daily guide to prayer and meditation on the gospels. Fr. John is based in New York, where he is engaged in doctoral research, teaching Ecclesiastical History, and continuing his writing apostolate.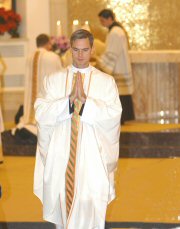 Fr. Bartunek's interview may be seen on Tuesday, December 1st live at 10:30AM (EST) on CatholicTV where available (rebroadcast at 8PM). The show will also be streamed simultaneously at www.CatholicTV.com and will be available on the site's archives starting Tuesday night. All videos at the website are viewable in full-screen. Paste this URL into your browser in order to access the "This is the Day" video archives.
http://www.CatholicTV.org/shows/default.aspx?seriesID=72