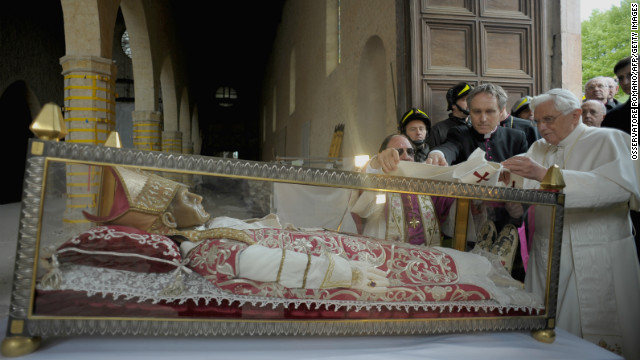 When Pope Benedict announced his resignation just over a week ago, the world was taken by surprise. But Benedict's decision was one he evidently has been ruminating over for quite some time.
Not only has he suggested in the past that a pope no longer able to fulfill his duties might be "obligated" to resign; he also seemed to closely identify with a predecessor from the 13th century, Pope Celestine V, who resigned after a short, difficult reign in 1294, saying, "We, Celestine, Pope V, moved by legitimate reasons, that is to say for the sake of humility... do freely and voluntarily resign the pontificate". Visiting the relics of Celestine for the second time in 2010, Benedict serenely laid his stole over the relics, and left it there.
Almost three years later, he stunned the world by humbly stating: "I have had to recognize my incapacity to adequately fulfill the ministry entrusted to me. For this reason, and well aware of the seriousness of the act, with full freedom I declare that I renounce the ministry of Bishop of Rome, Successor of Saint Peter."
In a world that views the papacy as other-worldly, Pope Benedict's decision can seem perplexing. But his move reminds us all of something he knows well: the pope is a man with a special ministry, and what is important is the ministry, not the man. His decision is a humble and brave one, and his wisdom is evident.
Let us pray that his precedent will be a comforting and helpful one to future popes, and that Pope Benedict's retirement will be peaceful and prayerful.